Building Services for either standard terrace to the large detached home or semi detached, our motto remains the same.
"Do it right the first time".
Careful consideration is given by our skilled workmen at W.A.W.C. Kerry and Cork. roofing and guttering, to ensure that our Attic conversions provide a natural and complimentary extension to your home.
It can be very surprising how a tastefully designed attic conversion will provide you with a complete new living area without the heavy cost of moving house or the strain of moving your family.
Get More Extra Living Space.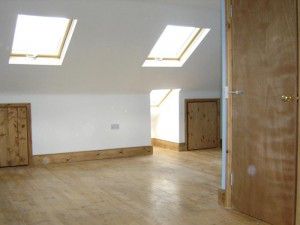 Today's homes are built without a livable attic space. Unfortunately, this type of home overlooks a great way to add livable space in your home.
Atlantic Way Contractors construction have come up with a quick, cost effective and energy efficient way of converting most attic spaces with little or no disruption to your current living conditions.
Quality Workmanship with No Shortcuts
Prime Construction will provide you with the best in quality and workmanship you can find for your attic conversion. Our employees are highly trained and have extensive experience. If you would like a site visit from one of our team, please get in touch and we can have someone with you in less than 24hours.
An Attic Conversion is right for Your Home.
There are several things that must be considered when you convert an attic into a livable part of your home. Prime can help you determine if this is a good addition to your home or if your attic will not support such a conversion. We have been providing attic conversions for over a decade and would consider ourselves specialists in the field.
Know the Cost before the Conversion Begins

A detailed estimate is provided for every project, no matter how big or small and we will stick to that estimate regardless.
Your New Attic will provide space.
Attic conversion will make a great addition to your home and it can increase the value of your property. Atlantic Way Contractors roofing will turn your attic into your home for your family, spare room extra storage anything you imagine.